Classy, Comfortable, and Affordable: Men's Loafers from Fausto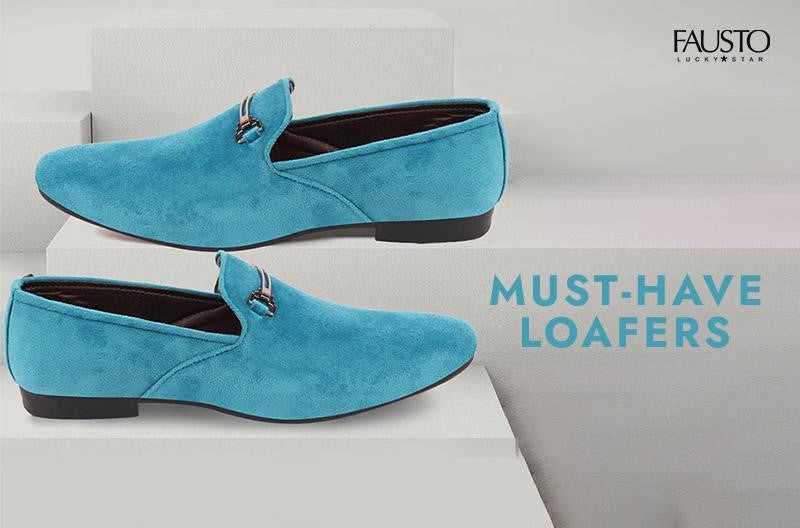 Are you in search of stylish and comfortable loafers for men? Look no further than Fausto! Our selection of men's loafers offers a wide range of styles, colours, and sizes to choose from, all at an affordable price. Whether you're looking for something simple and classic or something with more modern flair, Fausto has the perfect pair of loafers for men to complete your look.
The different types of loafers
When it comes to loafers, there are many different types to choose from. From classic penny loafers to modern tassel loafers, there's something for every man. Here's a closer look at some of the most popular styles. 
Penny Loafers: These are the quintessential loafer style. They typically feature a leather upper with a penny-sized slot at the top and an optional moccasin toe.
Tassel Loafers: Tassel loafers feature tassels on the vamp and have a more casual look than their penny loafer counterparts. 
Ethnic loafers: typically refer to a style of shoes that feature traditional or cultural designs, patterns, or motifs. These loafers are generally fit for your parties and functions.
Mocassion Loafers: Moc toe loafers feature a distinct moccasin toe and can be made in a variety of materials, including leather and suede.
Slip-on Loafers: Slip-on loafers feature leather uppers with elastic gores for easy on and off. They are often finished with metal buckles for a bit of shine.

How to style loafers
When it comes to styling loafers, there are many different ways you can go about it. For a smart-casual look, try pairing your loafers with chino or slim-fit trousers and a crisp shirt. Alternatively, for a more relaxed look, go for jeans and a t-shirt. You could also add a blazer to the look for a formal twist.
For those who prefer a more dressed-up style, opt for loafers with a suit. This combination is the ultimate sophisticated look, perfect for the office or special occasions. To make your outfit stand out, choose ethnic loafers in a bold colour or with an eye-catching pattern.
On the other hand, if you're looking for something more casual, team your slip-on loafers with a pair of shorts and a polo shirt. This is an easy way to dress down your look while still maintaining a level of smartness. 
Overall, there is no wrong or right way to style loafers. You just need to experiment and find out what works best for you. The key is to have fun with it and let your personal style shine through.
The benefits of loafers
When it comes to footwear, loafers are a great choice for men. Not only are they stylish and versatile, but they also offer a number of benefits that make them a great option for any occasion. Here are some of the key benefits of wearing loafers:
Comfort:

One of the most significant benefits of wearing loafers is their comfort. They have a flat sole and a low heel, which makes them an ideal choice for long days on your feet. They also don't rub against the skin like some other shoes, making them comfortable even after long periods of wear.
Versatility:

Loafers are extremely versatile and can be dressed up or down depending on the occasion. Whether you're wearing a suit to work or a pair of jeans to go out with friends, loafers are a great way to tie together your look and add a touch of class.
Durability:

Good-quality loafers are made from high-quality materials that are designed to last. This means that you don't have to worry about buying new pairs of shoes often and can enjoy your loafers for many years to come.
Overall, loafers are an excellent choice for any man looking for stylish, comfortable and affordable footwear. With so many benefits, it's no wonder why they have become such a popular choice! And no matter which style you choose, you can rest assured that all Fausto loafers are made with the utmost attention to detail and quality. So whatever type of loafer you decide on, you can be sure that you will have a comfortable and stylish pair of shoes that you'll be able to enjoy for years to come.
Our Popular Categories:
Boat Shoes
,
Back Open,
Moccasins,
Lace Up,
Slip On
,
Sneakers