The Best Formal Sandals for Men: Elevate Your Style with Fausto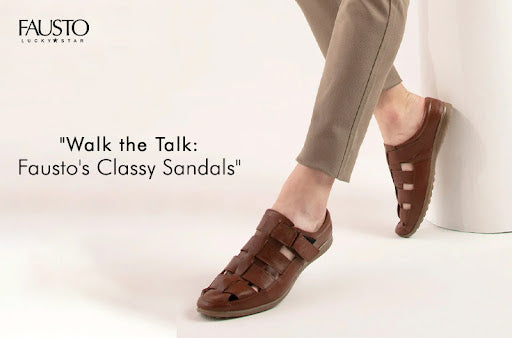 When it comes to men's footwear, finding the perfect balance between style and comfort is essential. While formal shoes have long been the go-to choice for dressing up, formal sandals offer a unique twist, providing a sophisticated and relaxed alternative. Fausto, a renowned brand in the world of men's footwear, offers a stunning collection of formal sandals that can elevate your style to new heights. In this blog, we will explore the best formal sandals for men by Fausto and delve into how you can style them with different outfits for a dapper look.
Classic Leather Elegance
Fausto's collection of formal sandals showcases a range of classic leather designs. Crafted with precision and attention to detail, these sandals exude sophistication and refinement. The smooth leather uppers, paired with meticulous stitching, make them perfect for formal occasions. The versatile black and brown shades make these sandals easy to pair with a variety of outfits, from tailored suits to dress pants.
Styling Tip: For a sharp and polished look, team these sandals with a well-fitted navy blue suit. Complete the ensemble with a crisp white shirt and a matching belt. The combination of the formal sandals and the suit will exude an air of confidence and elegance.
Modern Minimalism
If you prefer a more contemporary style, Fausto offers formal sandals with minimalist designs. These sandals feature sleek and clean lines, making them perfect for the fashion-forward gentleman. The simplicity of these designs allows them to seamlessly integrate into both formal and semi-formal outfits. Crafted with high-quality materials, such as synthetic leather and durable soles, these sandals provide both style and comfort.
Styling Tip: For a modern and trendy look, pair these sandals with tailored trousers in a light grey shade. Opt for a slim-fit white shirt and roll up the sleeves for a relaxed vibe. Add a stylish blazer in a complementary colour, such as navy or charcoal, to complete the ensemble. This combination strikes the perfect balance between formal and fashionable.
Statement-Making Details
Fausto's collection also includes formal sandals with eye-catching details, perfect for those who want to make a fashion statement. These sandals add a touch of personality to any outfit. Whether you choose sandals with buckles or straps, these unique features can take your formal attire to the next level.
Styling Tip: To highlight the statement details of these sandals, opt for a monochromatic outfit in a neutral shade. Pair the sandals with tailored beige pants and a matching blazer. Choose a simple white shirt to keep the attention on the sandals' intricate details. This combination will make you stand out in a crowd while maintaining a refined and polished look.
Summer Vibes
For warm-weather events or casual Friday office settings, Fausto offers formal sandals that embrace the summer vibes. These sandals feature open-toe designs, breathable materials, and lighter colours, making them perfect for the season. The combination of style and comfort ensures you can stay cool while still looking polished.
Styling Tip: To create a summer-ready ensemble, pair these sandals with linen trousers in a light shade of khaki. Opt for a pastel-coloured shirt in shades of blue or pink to complement the sandals. Roll up the sleeves for a relaxed look and add a matching belt to tie the outfit together. This ensemble strikes the perfect balance between laid-back and refined, perfect for summer events.
Conclusion:
With Fausto's collection of formal sandals for men, you can effortlessly elevate your style and make a lasting impression. Whether you prefer classic leather designs, minimalist aesthetics, statement details, or summer-friendly options, Fausto offers a wide range of choices. You just need to choose and style. Go explore the wide options of the best formal sandals from Fausto.