Solefully Sophisticated: Fausto's Formal Footwear for the Modern Man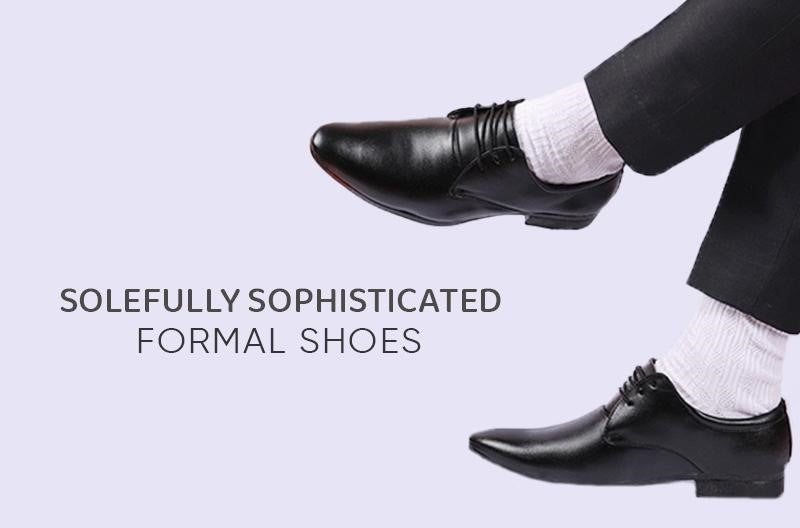 A well-dressed man knows that the shoes he wears are an important aspect of his overall look. Shoes can make or break an outfit, and when it comes to formal attire, it is crucial to choose the right pair of shoes.
Formal shoes not only add to the overall look and style but also provide comfort and support to the feet. Fausto, one of the leading shoe brands in India, offers a wide range of formal shoes for men that are crafted with precision and style. In this blog, we will take a closer look at the different types of formal shoes for men by Fausto and their unique features.
Brogues are one of the most popular styles of formal shoes for men. They are characterized by their perforated patterns and wingtip design. Fausto offers a wide range of brogues in various colors and styles to match different formal outfits. These shoes are made from high-quality leather and come with a lace-up design for a secure fit. The cushioned footbed and rubber outsole ensure maximum comfort and durability.
Fausto's selection of Derby shoes is ideal for any dress code, whether it be formal or casual. Boasting a variety of colors and designs, these footwear pieces are crafted from top-grade leather and fitted with a cushioned footbed and rubber outsole for unparalleled comfort. Enjoy their all-day support, no matter the occasion.
For a timeless, elegant look, Fausto provides a plethora of classic lace-up formal shoes. Constructed with superior leather and a reliable lacing system, these shoes promise superior comfort and dependability. Their cushion-soft footbeds and flexible rubber soles ensure optimum comfort and robustness. Ideal for sprucing up any tux or suit, these classic shoes make an exceptional accessory.
If you're looking for something sophisticated and stylish for formal events, consider a pair of Monk strap shoes from Fausto. The wide variety of colors and designs is crafted with top-notch leather and equipped with a buckle closure for secure fit. And the added comfort of a cushioned footbed and rubber outsole provides great support for long hours on your feet. Perfect for weddings, business meetings, or any other special occasion.
Fausto provides an impressive selection of Oxford shoes in a range of colors and designs. Crafted from high-grade leather and boasting a lace-up fastening, these shoes deliver secure fit and cushioning. An accompanying rubber sole furthers the comfort level, allowing you to enjoy their stylish formality for hours on end. Making for a fantastic accessory for formal attire such as suits and tuxedos, these Oxfords make for the perfect go-to.
If you are in search of comfortable, yet formal shoes, Fausto offers a selection of luxurious slip-on footwear. The leather construction guarantees the highest level of quality and the convenience of the slip-on design allows for quick and easy dressing. The padded footbed and durable rubber outsole ensure lasting comfort, making these shoes the ideal option for important business meetings, conferences, and other important events.
At Fausto, you will find a vast selection of stylish and comfortable men's formal footwear. From traditional brogues to fashionable slip-ons, we offer a variety of options to fit any occasion. To make sure that your shoe perfectly coordinates with your outfit, it is essential to pay attention to the style, color, and material. At Fausto, you can rest assured that you will receive a long-lasting, high-quality product. 
So, with this many varieties and green flags, why don't you give a chance to Fausto's formal shoes for men?