Comfort At Every Step: Slippers For Everyday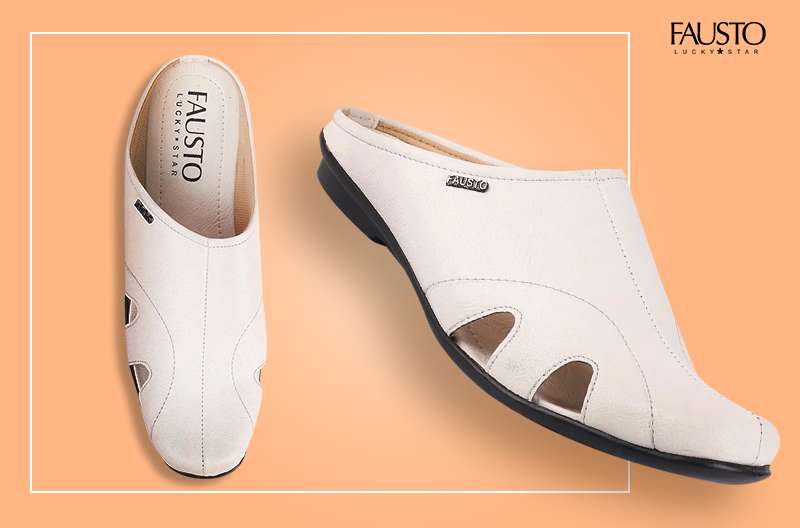 If you're on the lookout for free and comfy footwear, we have the answer for you. Slippers for men is the gift that keeps on giving. When we usually think of slippers, the one image that comes to mind is that of flip-flops. But, slippers are so much more than that. There's an array of comfy and fashionable options for you to walk in, whether you're on the watch for something casual or ethnic. From dress slippers for men to sliders for men, the options are varying, encompassing every aspect that the modern, fashion-conscious man looks for in his footwear. 
After all, wouldn't we all rather slip into something airy and free than donning a pair of restrictive shoes with laces that seem to get undone every minute?  
Here are different slippers, from men's sliders to flip flops for men from Fausto to get you started into the slipper game. 
Men's White Casual Synthetic Slip-On Back Open Slippers
These elegant slippers for men look impressive when styled right. Flaunt them with a pair of jeans and a solid shirt and watch your slippers get all the attention. With an extra cushioned footbed for extra comfort, these sleek open-backed slippers are trendy and classy mixed into one. 
Men's Tan Casual Leather Slip-On Outdoor Thong Slippers
This leather slip-on shoe for men is classic. Casual but sophisticated, these leather slippers can add a touch of traditional fashion to your outfit. A padded sole means comfort all day long. The leather will make for a premium look. 
Men's Brown Slip On Stylish Toe Ring Slippers
Toe ring slippers are must-have footwear for men. Stylish and elegant, these dress slippers will amp up your ethnic game in the blink of an eye. Whether it's a festive occasion or a wedding you need to attend, these slippers will freshen up your style. 
Men's Black/Grey Casual PU Slip-On Multistrap Slider Flip-Flops
These outdoor flip-flops are high on the comfort factor. Quintessentially casual, these flip flops for men in the neutral shade of grey can be paired with Bermuda shorts or cargo shorts with a plain t-shirt. These slippers are great if you're planning to hit the beach when summers become too unforgiving.